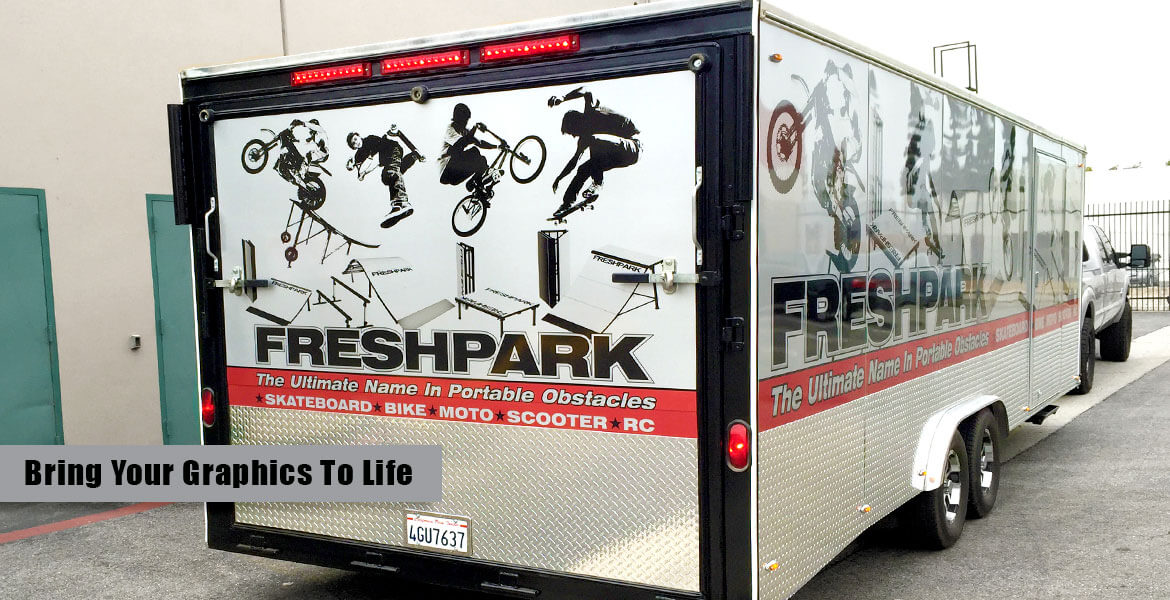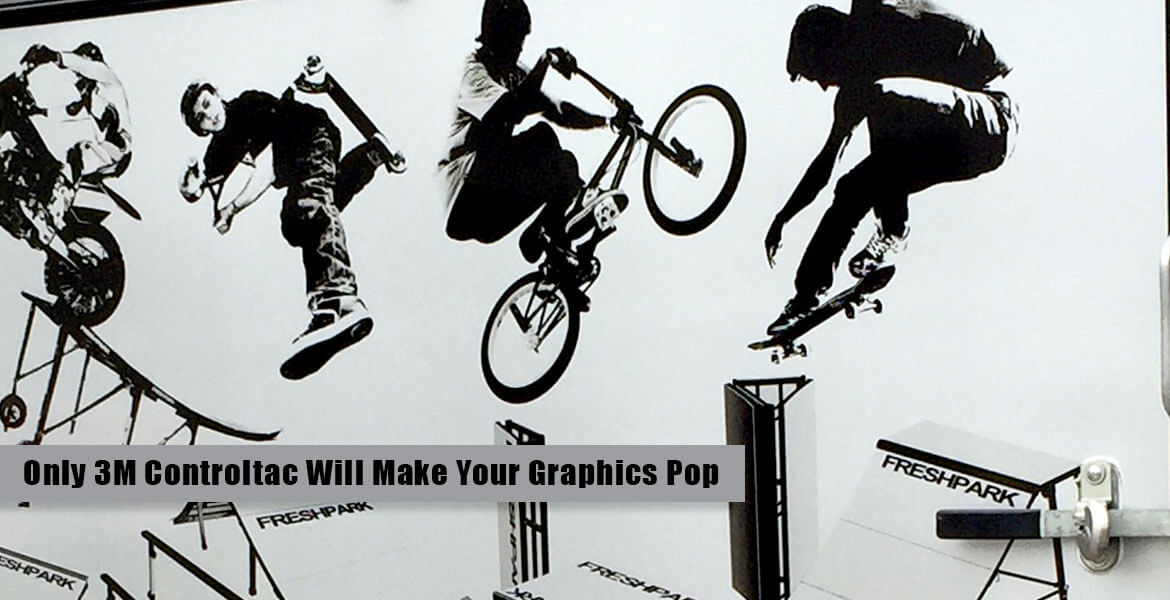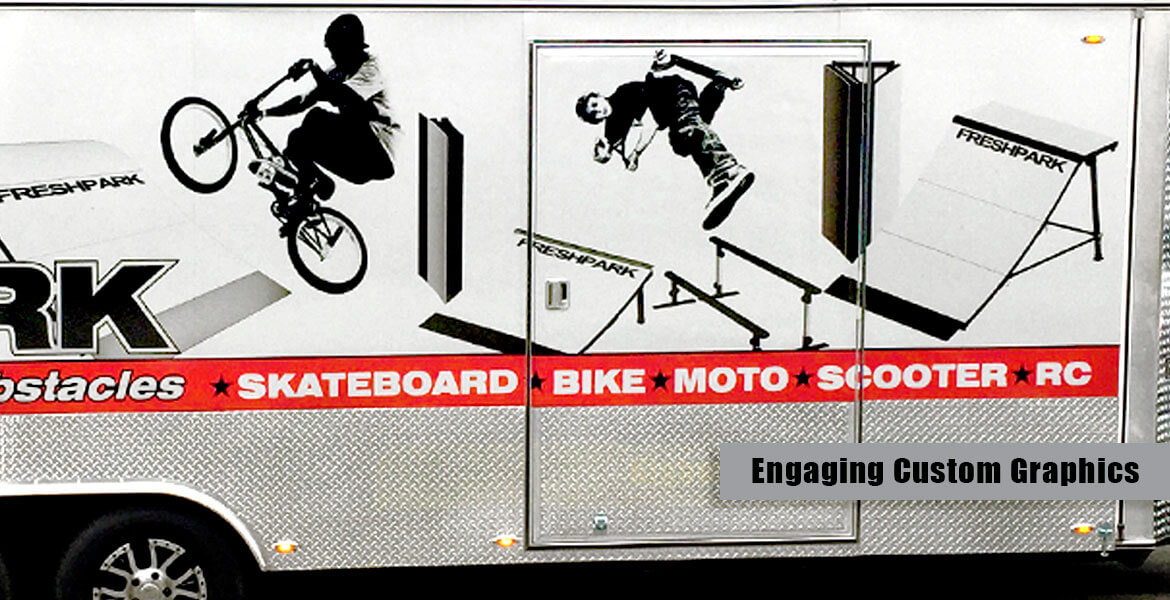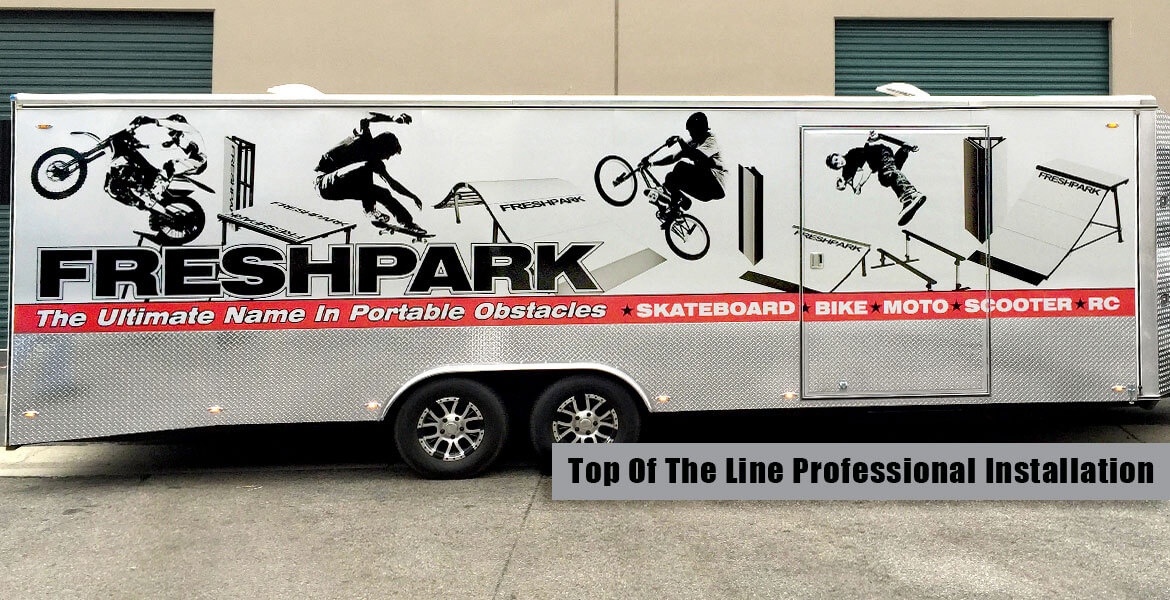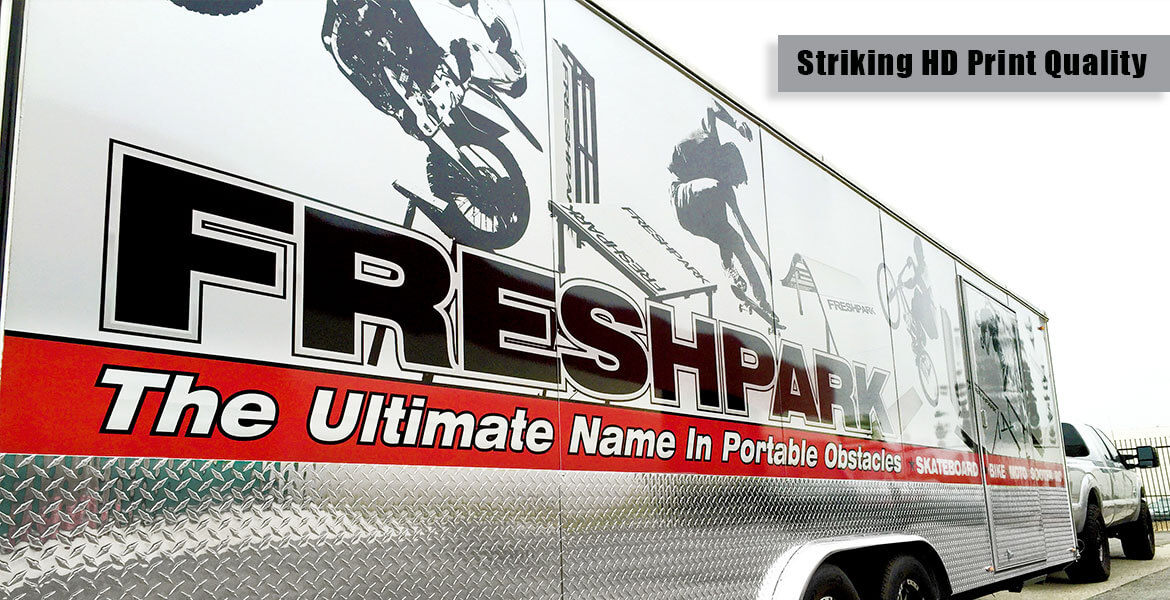 Make your shop stand out and look amazing!
Monster Image delivers in powerful company branding. Here is a vinyl trailer wrap for Fresh Park of Huntington Beach, CA. This trailer wrap is the best marketing tool available. Vinyl wraps reach a higher amount of clientele per hour in comparison to any other form of advertising.
Fresh Park produces action sports portable skate ramps. Their skate-BMX-Moto ramps can be transported, linked, set up, or moved with only one or two people. No fork-lift required. Roger came into Monster Image and said his dynamic company needed a powerful graphic with an industrial look to add to their company trailer. Monster Image is known for its ability to knock out unique vehicle wrap concepts that blow the customers away. Depending on the artwork or desired look we can suggest multiple wrap options for any budget. We offer partial vehicle wraps, decal kits, full wraps, trailer graphics, car wraps, boat wraps, wall wraps, and more! We knew this would not be an average trailer wrap. Trailer wraps are an investment and we want this to be the talk of the town. Our process begins with our design team reviewing your brand styles and objectives. After a one-on-one consultation we let our designers develop concepts and allow the customer to deliver feedback. Before moving forward we make sure you're 100% happy with your vinyl wrap design. Once approved, we begin printing your artwork at the highest quality. For Fresh Park we used 3M Controltac in metallic silver vinyl and printed red and black over top. Our state of the art Roland printer uses the latest technology and produces solid, rich colors. All of our trailer wraps are laminated with our 3M High Gloss Laminate. Once your vinyl is inspected and given the thumbs up, certified 3M installation team takes over to ensure a quality install. The results were flawless. Roger was very impressed with his new trailer wrap. Monster Image takes great pride with our client relationships which usually grows into many projects soon after. Having a positive reaction to our vinyl wraps, partial wraps, full wraps, vehicle wraps, or any vinyl wraps is very key to Monster Image.
Contact Monster Image in Huntington Beach, CA for any vehicle wrap; from van wraps, car wraps, truck wraps, tractor trailer wraps, boat wraps, aircraft wraps, and more.