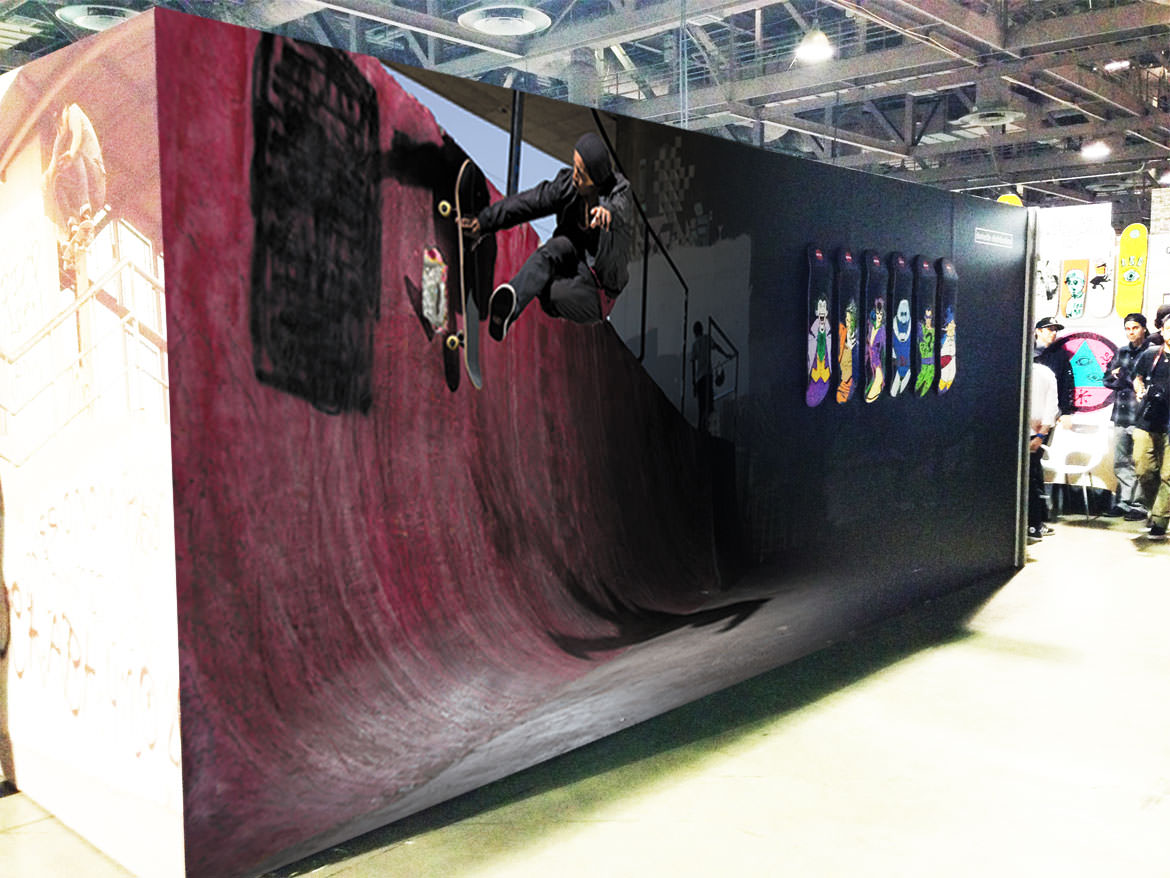 It's that time of year again… and Agenda is back!
---
Here are some new trade show prints Monster Image produced for the 2015 Agenda Tradeshow in Long Beach, CA. Agenda is one of the most diverse and creative lifestyle fashion trade shows in the world. It's only natural that a leader in the skateboard industry like Dwindle Distribution, would come to Monster Image to make their booth look great.
These generic walls are easily transformed with printed, adhesive back vinyl that gets installed at the show set-up. Large format images like these giant 8 foot tall by 20 foot wide prints are a daily routine for Monster Image. Skateboard brands like Almost, Darkstar, Cliché, Blind, Zero and Enjoi demand only the best in trade show imagery and we take great pride in delivering.
Whether it's a small die cut vinyl logo, or a large wall print, or a 6 foot canvas print, Monster Image offers custom applications specifically designed for each unique brand. We have the experience to make your booth unique, whether it's a 9 foot skateboard wrap or a giant foam logo. We can handle the job from start to finish.
For almost 10 years, we have provided high quality trade show graphics for events all over North America. Monster Image has provided dozens of solutions for Agenda booths for several of the attending brands. We provide prints mounted to foam board, pvc plastic panels, paper posters, adhesive back vinyl wall graphics, backlit films, and die cut vinyl decals, just to name a few. Along with printing graphics, we also offer installation services, delivery to the show and several other logistical requirements that may be needed.
Trade show displays can also be manufactured as permanent or removable applications. Monster Image also offers a variety of different finishes such as matte, luster and gloss. We build displays that your brand can use over again and be displayed at headquarters.
With our lengthy experience, Monster Image can assist when the graphics that are running late and lead time has become a crucial concern. Because we are not a broker and we print everything in house, Monster Image can assist with every last minute detail to make the booth a success.
Trade show displays are a key element to your booth and we want to provide you with great marketing tools that make your brand stand out. Located in Southern California, we work with all the mainstream sports brands. We also have installers that can install trade show displays anywhere in the country.