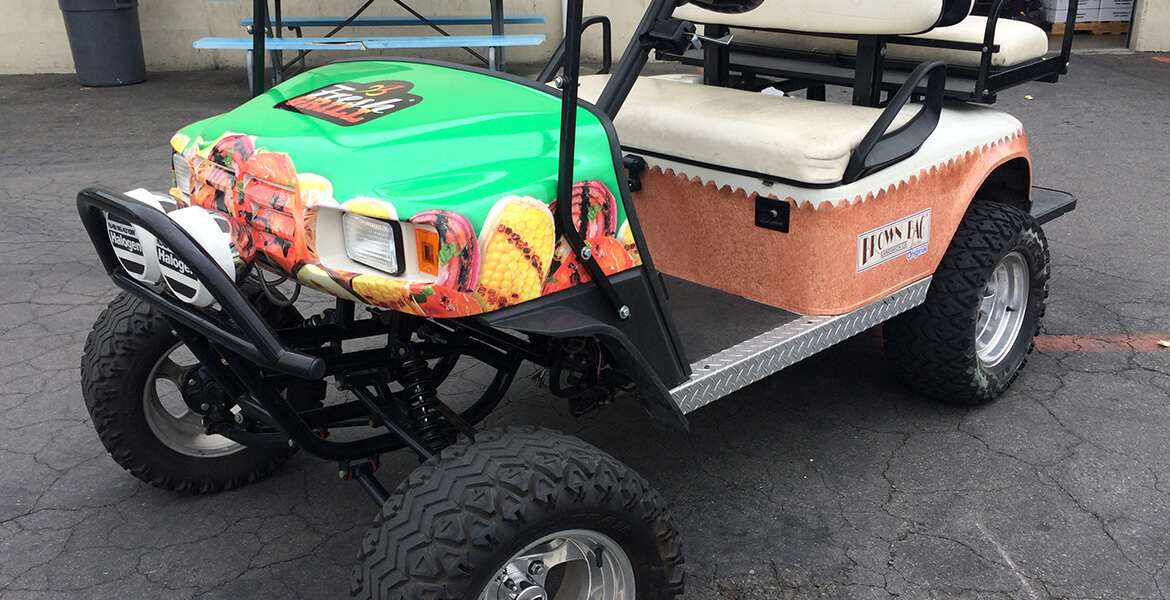 ---
Custom Golf Cart Wraps for Businesses
Are you looking to promote your business in a unique and effective way? Look no further than custom golf cart wraps! Golf cart wraps are an excellent way to advertise your brand while also providing a practical solution for transportation. In this blog, we will take a deep dive into the world of golf cart wraps, including their purpose, customization process, and significance for businesses. We will also explore some factors that you should consider when choosing a print shop for your golf cart wraps. Additionally, we will introduce you to Monster Image - an expert in vehicle wraps that offers a range of services to help you enhance your business's visibility and reputation. Read on to learn why custom golf cart wraps are a smart investment for any business looking to make a lasting impression.
Understanding Golf Cart Wraps
Understanding Golf Cart Wraps:
Vinyl graphics applied to the golf cart surface offer protection, marketing, and customization. The vinyl material provides durability and UV protection. Installations involve heat gun, squeegee, and vinyl sheet. The type of vinyl material determines wrap durability.
Definition and Purpose of Golf Cart Wraps
Vinyl installations enhance golf cart appearance and are cost-effective, often a third of the price of a new paint job. Custom wrap vinyl gives golf carts a unique look, setting them apart and protecting the original paint from chips. Golf cart wraps are a quick and effective way to customize and protect golf carts.
The Role of Golf Cart Wraps in Business Advertising
Incorporating vinyl wrap on golf carts can be a major selling point for potential buyers, increasing brand visibility in various weather conditions. These mobile advertisements showcase business logos and branding, with unique accessories adding a special touch.
The Process of Customizing Golf Cart Wraps
Customizing golf cart wraps involves bespoke design tailored to the cart's size, using vinyl film for vibrant graphics. Attention to detail during installation ensures durability and gloss. DIY installations may require a heat gun and squeegee, with various durable vinyl options available.
Designing the Wrap
Customizing golf carts with vinyl graphics is a great way for businesses to showcase their logo and branding. The design process involves creating unique vinyl graphics, including carbon fiber wraps for a professional look. Businesses can incorporate stripe, logo, and bumper designs, tailoring the custom wrap to the specific golf cart model.
Printing the Wrap
The vinyl material used for golf cart wraps provides excellent abrasion resistance and durability. 3M vinyl installations guarantee the wrap's durability, even in warm water conditions. The printing process involves custom graphics and logo reproduction, adding gloss and protection to the desired vinyl material. Golf cart wrap printing delivers vibrant, long-lasting, and custom graphics.
Installing the Wrap
During the installation, special attention is required to address contaminants. The application of heat gun ensures the durability and gloss of the vinyl wrap. This hassle-free process provides a durable shield, protecting the original paint job without any compromise.
The Significance of Custom Golf Cart Wraps for Businesses
Increasing brand visibility and reaching potential customers through cost-effective vinyl wrap marketing on golf carts. Custom wraps offer a fresh look, enhancing aesthetic appeal, and increasing the potential of golf carts as mobile advertisements. This approach provides businesses with an innovative and eye-catching way to market their brand.
Cost-Effective Advertising
Transforming golf carts into cost-effective advertising tools, vinyl wrap marketing offers an affordable solution for businesses. With durable installations and increased brand visibility, golf cart wraps provide a cost-effective approach to marketing, making them valuable assets for businesses seeking effective and efficient advertising strategies.
Increasing Brand Visibility in Less Time
Vinyl wrap graphics on golf carts enhance brand visibility in various settings. The use of vinyl wrap marketing on golf carts contributes to increased brand visibility for businesses. By utilizing vinyl wrap installations, businesses can effectively increase their brand visibility and reach a wider audience.
Creating a Lasting Impression
Enhancing the cart's appeal, custom golf cart wraps create a professional look, leaving a lasting impression. Vinyl wraps offer protection, durability, and a new appearance, standing out and attracting potential buyers in Orange County. Featuring your logo, a custom wrap uniquely markets your business, ensuring lasting brand visibility. The UV-protected wrap maintains its gloss, making a memorable statement.
Factors to Consider When Choosing a Print Shop for Golf Cart Wraps
Factors to consider when selecting a print shop for golf cart wraps include expertise in vinyl installations, quality of vinyl materials for durability, geographical coverage impacting order size, options for 3M vinyl installations, and the type of vinyl and selling points.
Expertise and Experience
When it comes to custom golf cart wraps, expertise and experience are crucial. These wraps serve as mobile advertisements for businesses, requiring professional design and installation. With the right company, businesses can expect high-quality wraps that protect the golf cart, extend its lifespan, and offer a variety of design options to suit branding and messaging. Custom wraps help businesses stand out and leave a lasting impression on potential customers.
Quality of Materials used
When selecting a company for your golf car wrap, prioritize materials that offer vinyl durability and resistance to scratches, weather, and fading. Quality materials not only protect your investment but also elevate the overall appearance of the wrap, promoting a positive brand image. Ensure the chosen company provides warranty coverage for their premium materials to guarantee longevity and durability.
Geographical Coverage
Enhancing business visibility, custom golf cart wraps target diverse locations, from resorts to recreational areas. With unique branding, businesses can create a professional image and stand out in high-traffic zones. This geographical coverage opportunity allows companies to gain exposure among a wide range of potential customers.
Other Services Offered By Monster Image
Monster Image offers a range of services, including vehicle wraps for golf cars. Their custom wraps can benefit businesses by increasing brand visibility and creating a lasting impression. With expertise in designing, printing, and installing wraps, they ensure high-quality vinyl durability and a professional finish.
Vehicle Wraps
Custom vehicle wraps, such as golf car wraps, offer durable vinyl protection and can be applied to various parts of the car, including the hood, fenders, and dash. Whether it's a first-time decal or additional coats of paint, custom car wraps for Club Car, Yamaha, Polaris, or Garia can significantly enhance brand visibility and create a lasting impression.
How Can Custom Wraps Benefit Your Business?
Custom wraps can benefit your business in several ways. They provide a unique and eye-catching way to advertise your brand on the go. With custom wraps, you can create a lasting impression on potential customers and increase brand visibility. Additionally, custom wraps are cost-effective compared to traditional advertising methods.
Looking for a vehicle wrap in Orange County?
Looking for a vehicle wrap in Orange County? Monster Image offers high-quality custom vehicle wraps that can help businesses stand out in the crowd. With our expertise and experience, we ensure that your golf cart wrap is designed, printed, and installed to perfection. Contact us today to learn more about how our custom wraps can benefit your business.
Conclusion
In conclusion, custom golf cart partial wraps are a fantastic way to promote your business and increase brand visibility. They provide a cost-effective advertising solution that can reach a wide audience. By designing, printing, and installing a wrap on your golf cart, you can create a lasting impression on potential customers. When choosing a print shop for your golf cart wraps, consider their expertise, experience, and the quality of materials they use. At Monster Image, we offer not only custom golf cart wraps, but also vehicle wraps and other services to benefit your business. If you're looking for a vehicle wrap in Orange County, contact us today for a consultation and let us help you take your business to the next level.